Curriculum mapping and management.
Comprehensive mapping for competency-based education, gap and overlap analysis, and driving curricular improvement initiatives.
eCurriculum allows programs to track the what, when, and how of classroom instruction by providing an accountability system for student learning. It helps identify what is and is not getting covered in the curriculum from the moment students set foot in the classroom.
We work with innovative health science programs across the country to ensure that their students are receiving the most state-of-the-art educational experience possible by providing solutions in everything from assessment to scheduling to evaluations, but all of those things depend on the perfect curriculum structure, and with eCurriculum, managing that structure has never been easier.
CURRICULUM DASHBOARD FEATURES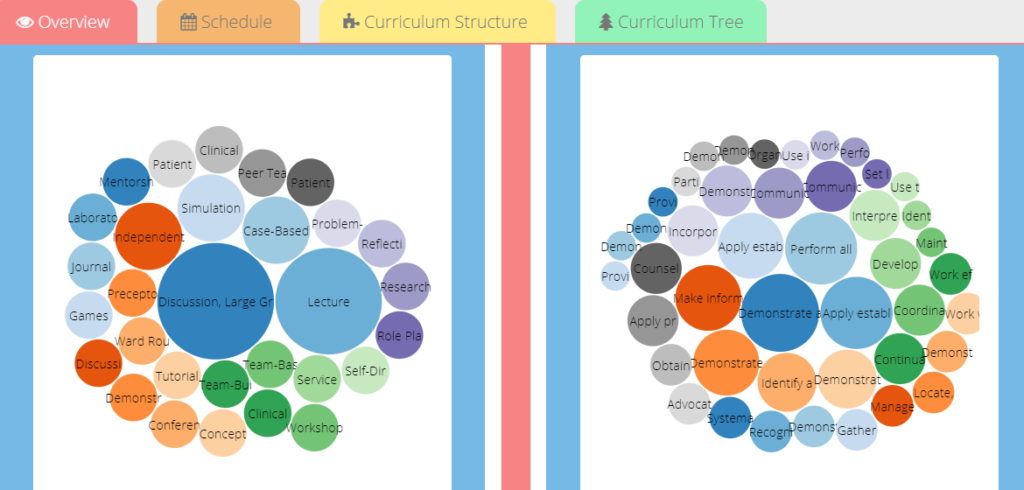 CURRICULUM MAPPING STRUCTURE
Generate a diagram of your curriculum structure and what is mapped at each level.
CURRICULUM DATA TREE
Automatically generate an interactive data tree to drill down into and visualize course curriculum.
INSTRUCTIONAL METHOD TIME ALLOCATION
View and track hours spent across the curriculum to ensure more active teaching methods are being employed by faculty.
COMPETENCY AND STANDARD ANALYSIS
View the distribution of coverage of your program competencies and accreditation standards.
CURRICULUM MAPPING STEPS
STEP 1 — STRUCTURE
Customizable structure to match each programs' individualized requirements.
STEP 2 — MAP
Map course objectives to standards and competencies.
STEP 3 — REPORT
Identify gaps and overlaps in classroom instruction.
STEP 4 — ANALYZE
Analyze the effectiveness of the curriculum based on student performance and mastery of competencies.
STEP 5 — REFINE
Make strategic decisions based on competency driven performance data.